2009 | OriginalPaper | Chapter
A Biographical Reading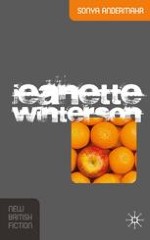 Author: Sonya Andermahr
Publisher: Macmillan Education UK
Log in
In a recent interview with the author, Kate Kellaway comments,
She has been written about so much — and has written about herself so much, above all in her celebrated autobiographical first novel

Oranges Are Not the Only Fruit

(1985), that it is easy to feel, without having met her, that Jeanette Winterson is a known quantity. Easy — but a mistake.

(2006, online)
Winterson would no doubt approve of this assessment, not only because it warns against a too easy elision of life and art, but because it suggests that she retains the ability to surprise an audience. The facts of her early life are well known: Jeanette Winterson was born in Manchester on 27 August 1959 and afterwards adopted and brought up by a working-class couple in Accrington, Lancashire. From an early age she attended a Pentecostal church with her devoutly religious mother whose ambition was for Jeanette to become a missionary. In a highly unconventional childhood, described accurately in her first novel
Oranges Are Not the Only Fruit
, Winterson preached the gospel from the age of eight and wrote sermons, which she described as 'good exercise for writing precise prose' (Cooper, 1986).