1998 | OriginalPaper | Chapter
A Bourgeois Society?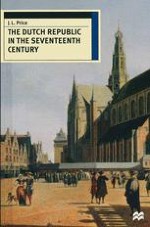 Author: J. L. Price
Publisher: Macmillan Education UK
Log in
It is generally accepted that the northern provinces of the Netherlands underwent an economic transformation which began sometime in the late fifteenth or early sixteenth century and took off about a century later. This process was most marked in the maritime provinces, with Holland — of course — in the lead, but even the land provinces were also profoundly affected by the changes in the country as a whole. That economic developments on this scale inevitably had significant social consequences is not in dispute; what historians are not agreed on is the nature of the society which was created by these developments. By the late seventeenth century it seems clear that the first completely capitalist economy in history had emerged in the Republic but, oddly enough, there seems to be a near-consensus among historians that what would seem to be the indispensable social corollary of capitalism — the bourgeoisie — did not and indeed could not exist at this time in any meaningful sense.1 This debate aside, the question still remains whether the economic changes were far-reaching enough to produce new social formations and, if so, whether such a transformation was limited to the maritime provinces. It is clear that different regions of the Republic were affected in very different ways by the economic developments of the sixteenth and seventeenth centuries, and it may well be that some social groups were more profoundly affected than others, but whether a new type of society emerged is more difficult to determine.