2008 | OriginalPaper | Chapter
A Conservative Consensus?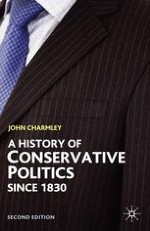 Author: John Charmley
Publisher: Macmillan Education UK
Log in
Despite Labour's propaganda — and the disappointment of later Conservatives — the Churchill years marked no great change in, but rather a reinforcement of, the prevailing consensus. Butler's strategy in opposition had been aimed at trying to convince the electorate that the Conservatives could preside over a Welfare State with high public spending, and that there would be no return to the austerity of the 1930s. The Conservatives had fought a campaign which emphasised this theme; as Churchill put it: the nation needed a rest 'if only to allow for Socialist legislation to reach its full fruition'.1 Nor did the election result suggest that the nation was anxious for any change. More votes had been cast for Labour than for the Conservatives (13,948,605 as opposed to 13,717,538),2 and the Conservatives had a slender majority of 17 seats. If the campaign and the result suggested that a period of consolidation was in order, Churchill was only too happy to oblige.