2019 | OriginalPaper | Chapter
A Federal State?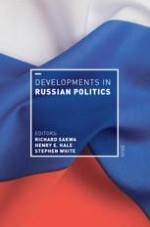 Author: Darrell Slider
Publisher: Macmillan Education UK
Log in
Federalism in Russia has always been a contested concept. Regional elites and 'democrats' or liberal politicians have seen the division of power and decentralisation of some policy making as a precondition for effective governance and further democratisation of the political system. Communists and Russian nationalists have viewed regional autonomy or a genuine sharing of powers with the regions as first steps towards the disintegration of the country. For many it conjures up memories of the collapse of the Soviet Union, as Soviet republic leaders took power through elections and forced concessions from Mikhail Gorbachev that set in motion the weakening of central power.