2017 | OriginalPaper | Chapter
A New German Hegemony: Does It Exist? Would It be Dangerous?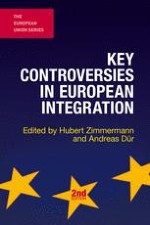 Authors: Hubert Zimmermann, Andreas Dür
Publisher: Macmillan Education UK
Log in
Until the fall of the Berlin Wall in 1989, the so-called German Question denoted the probably most serious and explosive quandary of global politics in the twentieth century. At issue was the problem of how to deal with the largest country in the centre of Europe. Germany was a latecomer state that consisted of numerous small independent territories for centuries, until Prussia's Iron Chancellor Otto von Bismarck achieved unification in 1871, in the aftermath of a victorious war against France. The new German empire aggressively sought to secure and enhance its position among the established countries. This policy resulted in World War I, and, ultimately, in the even greater catastrophe of World War II. The victorious powers tried to deal with the German question once and for all by partly dismembering the country and placing numerous restrictions on its sovereignty. In addition, the Cold War produced the division of what remained of Germany in an Eastern part, which was to become the Communist-ruled German Democratic Republic, and a Western part, consisting of the occupation zones of the United States, Britain and France. Another consequence of the Cold War was the long-term presence of large military forces of Germany's former enemies, now allies, which not only sought to deter attacks from the ideological adversary but also the rebirth of German militarism (Hanrieder, 1989). Militarily, the German problem seemed contained.