2014 | OriginalPaper | Chapter
A Pacific Century?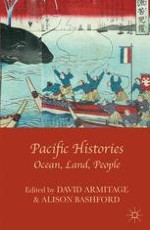 Author: Akira Iriye
Publisher: Macmillan Education UK
Log in
There are three ways of periodising Pacific (or any region's) history: national, international and transnational. The national way is to deal with each country of the wider Pacific (including East Asia and Southeast Asia) in terms of its own development. Pacific history would then amount to the sum of all national or local histories. But such nationcentric history would belie the very idea of regional history, such as Pacific history, so we may disregard this approach. Of the remaining two, the international approach is the one that is most frequently used to periodise the history of the world and of its regions. That approach has been supplemented, and at times superseded, by a transnational perspective, and this chapter will pay greater attention to it than the more familiar international history framework.