2008 | OriginalPaper | Chapter
A Parliamentary Europe?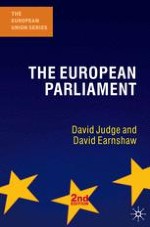 Authors: David Judge, David Earnshaw
Publisher: Macmillan Education UK
Log in
An essential part of the analysis of this book has been to examine the extent to which the EP can be understood in terms of the universal roles ascribed to 'parliaments'. Established analyses of comparative legislatures have been used to assess the merits of arguments about whether the EP constitutes a 'true', 'proper' or 'normal' parliament; and discussions about whether the EU can be identified as a parliamentary system and the prospects for further 'parliamentarization' have been set within a broader examination of the notion of a 'parliamentary model' (see Chapter 1).