2006 | OriginalPaper | Chapter
'A rustle of echoes': Self, Subjectivity and Agency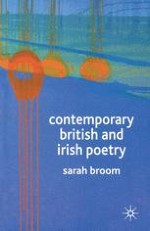 Authors: David Dabydeen, Paul Muldoon, Denise Riley
Publisher: Macmillan Education UK
Log in
Romanticism's elevation of the lyric has meant that for the last few centuries our very idea of poetry has been intimately tied up with the idea of the authentic, personal, speaking voice. Although throughout this period (and indeed within Romanticism itself) there have been myriad challenges to the notion that poetry can be the direct expression of a unified and autonomous self, the most forceful questioning of this idea has emerged in modernist and postmodernist poetry. In the case of postmodernism this has been energised partly by poststructuralist theories of selfhood and subjectivity. Over the last few decades, the term 'subject' has been used more and more commonly as an alternative to 'self' and 'individual'. This is because the term 'subject' suggests the way language assigns us roles — the 'subject' position is the position of the actor in the sentence — and also suggests the way people are
subjected
to various operations of power within culture. As Paul Smith puts it,
The 'individual' is that which is undivided and whole, and understood to be the source and agent of conscious action or meaning which is consistent with it. The 'subject', on the other hand, is not self-contained, as it were, but is immediately cast into a conflict with forces that dominate it in some way or another — social formations, language, political apparatuses, and so on.

1
Smith goes on to note, however, that this apparent opposition has not dissuaded people from using the phrase 'the individual subject' in an effort to capture the sense that human beings are never entirely subjected.
2