1998 | OriginalPaper | Chapter
A Social and Cultural Conflict?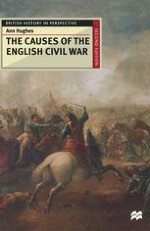 Author: Ann Hughes
Publisher: Macmillan Education UK
Log in
Exploration of the social context of the civil war has become increasingly problematic. It is also unfashionable, as can be illustrated from the titles of two collections of sources covering early modern social history. In 1965 Laurence Stone published Social Change and Revolution in England, 1540–1640, whereas in 1988 Barry Coward produced Social Change and Continuityin Early Modern England, 1550–1750. The coupling of continuity rather than revolution with social change in the latter work reveals a more qualified assessment of the extent of transformation in early modern England, but the different choice of chronology is also significant. Where Stone saw social change as crucial to the political breakdown of 1640–2, Coward refers only briefly to the civil war and in the main does not find it valid to tie social developments to a time scale defined by political conflicts.1 There are many reasons for this change in the approach to the origins of the English civil war, ranging from shifts in the general intellectual atmosphere to problems with the specific attempts to discover a social context for the divisions of 1642. As was suggested in Chapter 1, it is much less common now for historians to see the English civil war as a major landmark in the 'modernization of traditional society' and this has affected views of social change as well as encouraging scepticism about the emergence of modern liberty or the rise of religious toleration. Furthermore, although the emergence of a 'modern world' has been the focus for historians and sociologists working in several traditions, in its social and economic aspects this has often been expressed in Marxist terms as the shift from a feudal to a capitalist society. The eclipse of Marxism as an intellectual system has had an obvious impact on interpretations of the civil war.