2015 | OriginalPaper | Chapter
15. Adding Annotations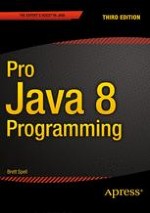 Author: Brett Spell
Publisher: Apress
Log in
Abstract
A very useful part of Java is its support for annotations, which are used to define what is sometimes referred to as
metadata
. To understand what benefits this feature provides, it's helpful to first realize that the definition of metadata is "data about data." In other words, metadata is information that describes other data. An example of where metadata has long been used in Java is the
java.sql
package that contains
DatabaseMetaData
,
ResultSetMetaData
, and the relatively new
ParameterMetaData
interfaces. As implied by the definition just mentioned and by their names, these classes encapsulate data that describes a database, a
ResultSet
, and parameter information, respectively. For example,
ResultSetMetaData
allows you to find out how many columns are represented within a
ResultSet
, the data types associated with those columns, and so on.