2012 | OriginalPaper | Chapter
African Independence: Poisoned Chalice or Cup of Plenty?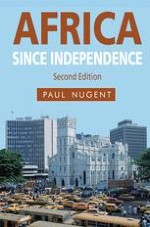 Author: Paul Nugent
Publisher: Macmillan Education UK
Log in
Although this book is concerned with Africa since independence, there is a compelling case for adopting a somewhat longer-range perspective. Few historians would dispute that colonialism left a legacy which endured beyond independence day, and many would contend that its echoes still resonate in the twenty-first century. Hence the clock cannot realistically be started in 1960 — the so-called year of African independence — or, for that matter, in 1956 when an independent Sudan came into being. At the very least, one needs to take account of the protracted processes of decolonisation which unfolded in the aftermath of the Second World War, because the permutations prepared the ground for much which was to follow. The aim in this chapter is not to provide an exhaustive account of colonialism or of decolonisation, both of which have been the subject of substantial monographs in their own right.1 It has a more limited remit, namely to convey some sense of what the rulers of newly independent states were actually inheriting and to examine how new languages were coined — of participation, development and a common humanity — which helped to shape the post-colonial world.