2004 | OriginalPaper | Chapter
Agreement and Resolution?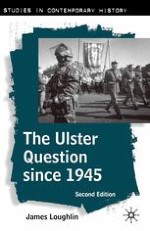 Author: James Loughlin
Publisher: Macmillan Education UK
Log in
The new year opened with depressingly familiar develop­ments. The killing of the LVF leader, Billy Wright, in the Maze prison on 27 December 1997 provoked an inevitable round of retaliatory killings by the organisation in early January. But at the same time, the ability of sectarian violence to de-stabilise the search for peace — a recurrent development since 1968 — was substantially weakened. The determination of the Blair government to drive the peace process forward was reinforced by the determination of the new Tory leader, William Hague, to maintain the bi-partisan approach to Northern Ireland, while the re-admission of PSF to the talks process in September 1997 and its signing up to the Mitchell principles; the appointment of the Canadian general, John de Chastelain, to oversee the weapons issue; the endorse­ment of David Trimble's leadership by the UUC, which gave him the freedom to make decisions in the talks process; and, not least, the fact that the major loyalist paramilitary organi­sations continued to maintain their ceasefires (McKittrick and McVea, 2000; Cunningham, 2001) — all were powerful factors conducive to political progress. But no less important was the departure from the talks process of the DUP and the UKUP. Their departure left the process in the hands of par­ties willing to reach a compromise settlement.