2005 | OriginalPaper | Chapter
Alias Grace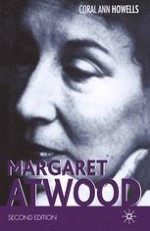 Author: Coral Ann Howells
Publisher: Macmillan Education UK
Log in
Atwood's retrospective impulse becomes an explicitly historicising one with her novel
Alias Grace
(1996), which is set in the context of nineteenth-century English-Canadian colonial history, a return to the same period as her early poetic sequence
The Journals of Susanna Moodie.
In this chapter I am concerned with Atwood's revisions of Canadian history in a postmodern context, looking at her narrators and narrative techniques, and investigating the connections between history, fictive autobiography, Gothic tale and domestic drama. Like
The Handmaid's Tale, Alias Grace
tells history from a feminine perspective, challenging and resisting the discourses of masculine authority which constitute official historical accounts, as a woman's voice declares in the opening epigraph, taken from a late nineteenth-century poem by William Morris:
Whatever may have happened through these years, God knows I speak truth, saying that you lie.

2
This is the voice of Arthur's queen, Guenevere, who refutes her accusers by reminding them that they can never know the truth about the past and therefore cannot pass judgement on her.