1999 | OriginalPaper | Chapter
All the King's Men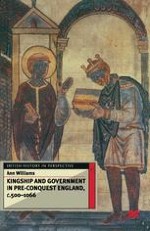 Author: Ann Williams
Publisher: Macmillan Education UK
Log in
The early kings of the English appear before us surrounded by their advisors, councillors and servants. Bede gives us a vivid picture of Oswine of Deira, about to dine with Bishop Aidan, 'warming himself by the fire with his
ministri
' (literally 'servants'); the members of his household (
hired
), who dwelt with him and accompanied him on his journeys.
1
Such progresses could be full of pomp, as another Bedan vignette, this time concerning Oswine's kinsman, Edwin of Northumbria, shows:
So great was his majesty in his realm that not only were banners carried before him in battle, but even in time of peace, as he rode about among his cities, estates and kingdoms (

civitates siue uillas aut provincias

) with his

ministri

, he always used to be preceded by a standard-bearer (

signifer

).

2
It was one of Edwin's household who saved his lord's life from an assassin sent by Cwichelm of Wessex, by taking in his own body the blow meant for the king.
3