2009 | OriginalPaper | Chapter
An American Welfare State?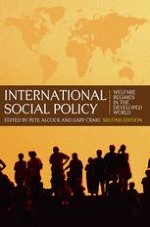 Authors: John Clarke, Frances Fox Piven
Publisher: Macmillan Education UK
Log in
The organization of USA social welfare has always posed distinctive problems for comparative studies of social policy. The absence of a strong, centralized welfare state providing a wide range of more or less universal benefits and services has led commentators to question whether the term 'welfare state' could meaningfully be used in this context. In contrast to European welfare models, the USA has featured more complex relationships between federal and state governments, and a mixture of corporate, philanthropic and public sources of welfare provision, exemplified in the organization of US health care, developed without a national universal health insurance system. Peters (2005) argues that the dominance of private over public provision meant that the US should be viewed as a 'corporate welfare system' since corporations provide both welfare and a route to welfare for employees.