2011 | OriginalPaper | Chapter
An Answer to the Question: What is Cultural Studies?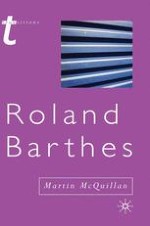 Author: Martin McQuillan
Publisher: Macmillan Education UK
Log in
To hear Barbara Engh tell it, it all begins with Kant.1 I have stated elsewhere that if cultural studies, troubled by its own rapid institutionalisation, wishes to reorientate itself it ought to do so with a turn, if not a return, to Kant, rather than, say, to Birmingham or even Derrida.2 This will now require a little justification in the light of the extended commentary on Roland Barthes and the origins of a French cultural studies in the previous chapter. I think that there are three 'strong' theoretical claims made with regard to Barthes in the text that you will have just read. First, what we call cultural studies has a much longer provenance than one might expect and one that places Barthes, as the logothete of contemporary cultural study, in an extended tradition of philosophical reflection on the present that can be traced through the likes of Benjamin and Adorno to Kant and the Enlightenment tradition. Second, an alternative history of ideology and demystification as a concept and operation can be traced coterminous with this and according to the same indices. Third, something like a method of critical inquiry that followed the historical play of différance in a text, tangentially referred to here as 'cultural archaeology', emerges from this rereading of Barthes today. I will have to postpone a fuller examination of these last two points until another occasion.