1996 | OriginalPaper | Chapter
An 'Economics' of Snow and the Blank Page, or, 'Writing' at the 'Margins': 'Deconstructing' 'Richard Jefferies'?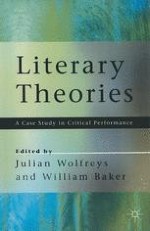 Author: Julian Wolfreys
Publisher: Macmillan Education UK
Log in
You might think people would have listened by now. But they just don't seem to be able to do so. So, in this essay, after Jacques Derrida, I am going to argue that there is no programme to 'deconstruction' which I can demonstrate to you. There is no programme, model or code which I could define which would provide you with the tools for 'deconstruction' as a theory to be applied to literature; or to 'deconstructive criticism', a phrase which can be read as saying 'forget the theory, let's just get on with the criticism, let's just talk about texts'. The 'deconstructive' is that which escapes the programme (as I hope you will see, this essay is itself internally 'deconstructive' inasmuch as it constantly overflows the limits of the conventions of an introductory, expository essay). At the same time, I am going to attempt to introduce you to a very small amount of the thought and work of Jacques Derrida, whose name is mistakenly recognized as being sometimes synonymous with what is understood in some quarters as 'deconstructive criticism'. The mistake is in the idea that what Derrida does, the ways in which he reads and interprets, is theoretical and not already involved in active interpretation; this mistaken reading of Derrida suggests that Derrida can somehow be 'boiled down' to a theory, a collection of axioms, which, once rendered, can then be applied.