2006 | OriginalPaper | Chapter
An Essential Self?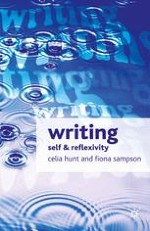 Authors: Celia Hunt, Fiona Sampson
Publisher: Macmillan Education UK
Log in
I am; yet what I am none know or cares. Clare, J. 'I am' 1972, p. 601. Much of the time, when we reflect on ourselves as we are engaged in the writing process, we do so as individuals. We think in terms of developing an individual voice; of the particular life experience which we want to inform our writing; or of the character or image we have thought up ourselves. However sometimes – perhaps when we read about an experience we recognise, or when we have the sense of writing on behalf of a constituency – we experience ourselves as part of a group. In particular, we may have this experience because of aspects of our identity which seem inalienable. These characteristically include race, sexuality, gender and disability or illness (see Embodied Selves). But such identities, seen as being of our essence, are frequently as much thought about by people not being actively categorised in these ways as by those who are; and they may limit – or exaggerate – perceptions about our roles as writers or about our texts. As we saw in the chapter on Culture and Geography, thinking about race is culturally relative: that's to say, it varies from culture to culture and also according to the perceived racial identity of the thinker. Very often the writer positions himself as a member of a particular culture in order to establish his authority to carry out a specific critique.