2005 | Approaches to Literature | Book
Subjectivity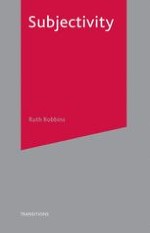 Book Series: Transitions
Publisher: Macmillan Education UK
Print ISBN: 978-0-333-75279-1
Electronic ISBN: 978-0-230-21327-2
About this book
Who do you think you are? In Subjectivity, Ruth Robbins explores some of the responses to this fundamental question. In readings of a number of autobiographical texts from the last three centuries, Robbins offers an approachable account of formations of the self which demonstrates that both psychology and material conditions - often in tension with one another - are the building blocks of modern notions of selfhood. Key texts studied include:
- William Wordsworth's Prelude
- Thomas De Quincey's Confessions of an English Opium Eater
- James Joyce's A Portrait of the Artist as a Young Man
- Oscar Wilde's De Profundis
- Jung Chang's Wild Swans

Robbins also argues that our subjectivity, far from being the secure possession of the individual, is potentially fragile and contingent. She shows that the versions of subjectivity authorized by the dominant culture are full of gaps and blindspots that undo any notion of universal human nature: subjectivity is culturally and historically specific - we are, in part, what the culture in which we live permits us to be.

Concise and easy-to-follow, this introduction to the concept of subjectivity, and the theories surrounding it, shows that, in spite of the insecurity of selfhood, there is still much to be gained from the textual encounter with other selves. It is essential reading for all those studying 'autobiography' or 'autobiographical writing'.
Title

Subjectivity

Publisher

Macmillan Education UK

Print ISBN

978-0-333-75279-1

Electronic ISBN

978-0-230-21327-2

Copyright Year

2005

DOI

https://doi.org/10.1007/978-0-230-21327-2

Author:

Ruth Robbins


Keywords