2004 | OriginalPaper | Chapter
Assessment: What, When and How?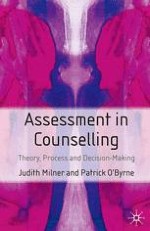 Authors: Judith Milner, Patrick O'Byrne, Jo Campling
Publisher: Macmillan Education UK
Log in
In this chapter we move on from the broad issues of the objectives and potentially oppressive aspects of assessment, to a more detailed consideration of purpose and process. This is not to say that it is solely the domain of the assessing counsellor or that it is a fixed entity; assessment is essentially two-way and ongoing. Assessments are made at intake or pre-assessment screening, at the start of counselling proper, throughout counselling, at the end and in evaluating the work. First, we examine the nature of assessment.