1999 | OriginalPaper | Chapter
Auden and Co.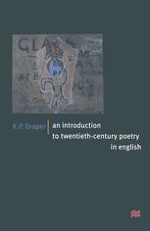 Author: R. P. Draper
Publisher: Macmillan Education UK
Log in
These are the lines which begin W. H. Auden's' september 1, 1939' (a poem which its author virtually disowned in later life). The 'decade' in question is that of the 1930s; and the comments made on it, including its 'clever hopes' and its 'low dishonest' nature, suggest the character it acquired for a group of poets who themselves take their place in literary history, rightly or wrongly, from the work they did in the 1930s. Chief among them are Auden, Louis MacNeice, C. Day Lewis and Stephen Spender — mockingly clustered together by Roy Campbell as 'MacSpaunday', and by Auden himself as 'Daylewisaudenmacneicespender'.