2015 | OriginalPaper | Chapter Open Access
6. Bioinspired Computing: Swarm Intelligence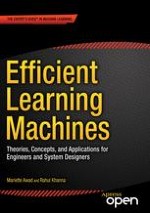 Authors: Mariette Awad, Rahul Khanna
Publisher: Apress
Log in
Abstract
Natural systems solve multifaceted problems using simple rules, and exhibit organized, complex, and intelligent behavior. Natural process control systems are adaptive, evolutionary, distributed (decentralized), reactive, and aware of their environment.
Bioinspired computing
(or
biologically inspired computing
) is a field of study that draws its inspiration from the sophistication of the natural world in adapting to environmental changes through self-management, self-organization, and self-learning. Bioinspired computational methods produce informatics tools that are predicated on the profound conceptions of self-adaptive distributed architectures seen in natural systems. Heuristics that imitate these natural processes can be expressed as theoretical methods of constrained optimization. Such heuristics define a
representation
, in the form of a fitness function. This function describes the problem, evaluates the quality of its solution, and uses its
operators
(such as crossover, mutation, and splicing) to generate a new set of solutions.