2013 | OriginalPaper | Chapter
16. Biometric Technologies and Ethics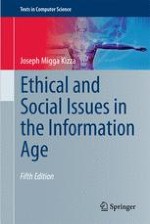 Author: Joseph Migga Kizza
Publisher: Springer London
Log in
Abstract
This chapter starts off by discussing. Biometric technologies as access and identification processes. Biometric technologies confirm a person's identity by scanning physical characteristics such as a fingerprint, voice, eye movement, and facial recognition. We discuss how a typical biometric system operates in two distinct stages: the enrollment stage and the authentication stage. We also discuss biometric technologies traits used to confirm a person's identity that include fingerprint, voice, eye movement, facial recognition, and a few others. Finally in discussing the ethical issues faced in the use of biometric technologies, we pose the following questions to the reader:
For respect for human dignity—In substituting names with codes, might biometrics degrade the human condition to that of animals or things?

For "informatization" of the human body—Is there any risk linked to the digitalization of human attributes and their distribution across the global information network?

For data protection and Privacy—What level of protection do biometric data deserve? Is there any risk related to the possible linkage of several biometric databases?

For respect for intimacy and body integrity—Is there any risk that biometrics may be felt as heavily intrusive technologies?

Biases based on human attributes:

Can ethnicity be derived from biometric data?

Do different ethnic types find it more or less difficult to use a particular biometric technique?

Is there any risk of discrimination based on ethnicity?

Is there any risk of categorization through profiling groups of people?
The answers to these questions inform our discussion.