2020 | OriginalPaper | Chapter
25. Blockchains, Cryptocurrency, and Smart Contracts Technology: Security Considerations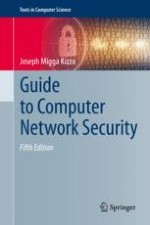 Author: Joseph Migga Kizza
Publisher: Springer International Publishing
Log in
Abstract
Blockchain was originally
block chain
, a continuously growing list of records, called
blocks
, which are linked data blocks and secured using cryptography. Today's block contains a
cryptographic hash of the previous block,
a
timestam
p, and
transaction data,
and it is represented as a Merkle tree. Transaction data consists of transactions. The data from each block hashes into a
unique cryptographic number—a hash
—as it links onto the next block. The unique number or hash makes each block on the blockchain
immutable.
This means a block of data on the blockchain can never be changed again. Thus, blockchains are inherently resistant to modification of the data. The blockchain is stored in a distributed peer-to-peer network of servers, and any transaction, between any two or more parties, that uses the data in any of these blocks must be approved by a majority of all network servers using efficiently verifiable protocols. Once recorded, the data in any given block cannot be altered retroactively without the alteration of all subsequent blocks, which requires collusion of the network majority. This last feature of decentralized consensus, possessed by the blockchain technology, gives it broad appeal in a variety of areas requiring recording of events such as medical records, all types of records management activities, such as identity management, transaction processing, documenting provenance, food traceability or voting . In this chapter, we discuss all these applications, security issues, and the future of blockchain technology.