2014 | OriginalPaper | Chapter
13. Calculus: Derivatives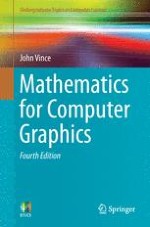 Author: MTech, PhD, DSc, CEng, FBCS Professor Emeritus John Vince
Publisher: Springer London
Log in
Abstract
Calculus
is a very large subject, and calculus books have a reputation for being heavy. Therefore, to minimise this book's weight, and provide a gentle introduction to the subject, I have selected specific topics from my book
Calculus for Computer Graphics
, and condensed them into two chapters.
One branch of calculus is concerned with a function's
derivative
, which describes how fast a function changes relative to its independent variable. In this chapter, I show how
limits
are used in this process. We begin with some historical background, and then look at small numerical quantities, and how they can be ignored if they occur in certain products, but remain important in quotients.