2009 | OriginalPaper | Chapter
Can I use 'I' in my essays?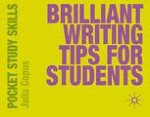 Author: Julia Copus
Publisher: Macmillan Education UK
Log in
Students often come to university with a mental checklist of rules about what is and is not permissible in essay writing — such as the much-quoted Never use 'I'. Since these 'rules' often derive from half-remembered or poorly understood advice from schooldays, it is not surprising that some of them are either over-simplistic or just plain wrong. When you need to make it clear to the reader that an opinion is your own, it is entirely appropriate to use the first person in an essay. In such cases — unless you are specifically told not to do so — you should go ahead and use it.