2015 | OriginalPaper | Chapter
Can political science address the puzzles of global governance?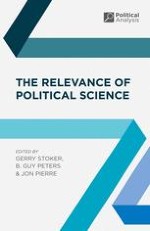 Author: Jon Pierre
Publisher: Macmillan Education UK
Log in
The idea of global governance continues to be little more than an idea. The failure of the Copenhagen meeting in December 2009 to produce a global agreement on carbon dioxide emission was yet another illustration of the tremendous difficulties in getting states to commit themselves to collective solutions. While transnational regions like South East Asia (Katzenstein 2005; Pempel 2005), Mercosur, the EU and the NAFTA area continue to develop concerted governance, the prospects of global governance continue to be bleak. At the same time, however, many of the top issues on the agenda of most nation states — environmental protection, national security, financial instabilities and pandemics — are inherently transnational or global issues requiring some degree of collective, concerted action to be resolved or at least addressed. Thus, it is fair to say that there is a global governance deficit. Despite the increasingly global nature of the most salient issues on the agenda, and the common view on the contemporary era as that of globalization, creating global governance remains extremely difficult.