2017 | OriginalPaper | Chapter
Can the EU Survive?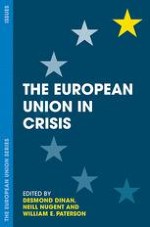 Authors: Desmond Dinan, Neill Nugent, WilliamE. Paterson
Publisher: Macmillan Education UK
Log in
It is a measure of the depth of the current crisis that in 2015 and 2016 an increasing number of political leaders and observers publicly expressed fears that the EU was on the verge of collapse. The aim of this chapter is to assess to what extent these fears are justified - that is to say, how likely it is that the EU will survive or disintegrate. The notion of political integration (or disintegration) has three distinct dimensions. Horizontal (dis)integration refers to the decline/growth in the number of EU member states; vertical (dis)integration to the decline/growth in the competence and powers of the EU's supranational organs - the European Commission, the European Parliament, the Court of Justice of the European Union (CJEU), and the European Central Bank (ECB) - visà- vis national governments; and sectoral (dis)integration to the decline/ growth in the number of issue areas in which common policies have been adopted in Europe.