2017 | OriginalPaper | Chapter
Can the EU Tame Big Finance?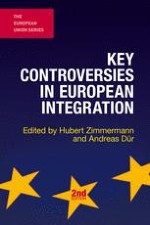 Authors: Hubert Zimmermann, Andreas Dür
Publisher: Macmillan Education UK
Log in
Is the EU able to quickly react to political emergencies? Can member states achieve the required degree of cooperation when they are faced with surprising developments which demand a coordinated response? The global financial turmoil after the collapse of Lehman Brothers in September 2008 was a major test case for the capacity of the EU to meet new challenges. Faced with chaotic markets, a potential meltdown of financial systems in many member states, and the ensuing global momentum towards the re-regulation of 'Big Finance', the EU was called upon to provide a quick and coherent answer to the crisis.