2017 | OriginalPaper | Chapter
Can There Be a Common European Identity?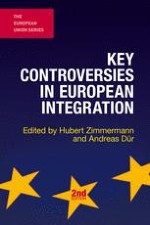 Authors: Hubert Zimmermann, Andreas Dür
Publisher: Macmillan Education UK
Log in
Preoccupation with European identity emerged in parallel with concerns about the EU's alleged democratic deficit (see Chapter 4). Many political theorists see a common identity as a prerequisite for a functioning democratic political system. To the extent that democracy is defined as government 'by the people', it requires that citizens feel part of the same collective entity. The EU's member states have reacted to this perceived need for a European identity by introducing the concept of a European citizenship, which was expected to help in the creation of a political community. In a declaration attached to the Treaty of Lisbon, 16 EU member states declared that they would use the informal EU flag, anthem ('Ode to Joy'), motto ('United in Diversity') and Europe Day 'to express the sense of community of the people in the European Union'.