2008 | OriginalPaper | Chapter
Case studies: these people need help!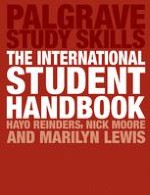 Authors: Hayo Reinders, Nick Moore, Marilyn Lewis
Publisher: Macmillan Education UK
Log in
In this chapter you will meet a number of students we have worked with over the years. Each one speaks English as a second language, and each one is concerned about some aspect of studying at university. At the end of the profile you will read some questions to help you identify the problems they faced.When you have thought about your own ideas, look at the suggestions at the end of the book (pp. 201–3). If it turns out that you are concerned about the same thing, then follow the directions to the chapter or chapters that will help you.