2015 | OriginalPaper | Chapter
Changing Ideologies?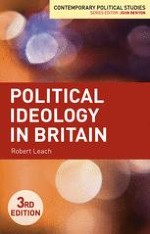 Author: Robert Leach
Publisher: Macmillan Education UK
Log in
The final chapter of the second edition of this book was written in 2009, shortly after the financial crisis of 2008, and naturally speculated on its political implications, making comparisons with the great crash of 1929. Optimistic Marxists saw both as the long awaited crisis of capitalism, leading potentially to a socialist revolution. In practice, each crisis prefaced a swing to the right, both in Europe and Britain. The 1929 slump led to the rise of Nazism and other right wing movements, and in Britain, a swing to the Conservatives, the rout of Labour and, briefly, some noisy backing for Mosleys British Union of Fascists. The aftermath of 2008 increased support for rightist and quasifascist parties in parts of Europe. In Britain, as in 1931, the crisis led to the replacement of a Labour government by a Conservative dominated coalition. There the similarity almost ends. The 1931 National government was created before an election, and led by the former Labour prime minister, Ramsay MacDonald, who was disowned and rejected by his party.