2011 | OriginalPaper | Chapter
Choice and Marketing in Public Management: The Creation of Public Value?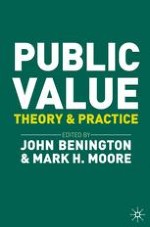 Authors: Robin Wensley, Mark H. Moore
Publisher: Macmillan Education UK
Log in
We can interpret public value creation as the production of benefits which cannot be captured within the market-based pricing system. Broadly speaking, this is either because the benefit generated is not subject to charge — at least directly — or because what is happening is the reduction of costs which equally are not directly recognized. The two most obvious situations are, first, those in which there is an improvement in quality of the service concerned that cannot be reflected in increased prices; and, second, those in which there are significant changes to the unpriced externalities.