2003 | OriginalPaper | Chapter
Collaboration and resistance: was the Empire held by coercion or co-operation?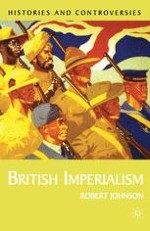 Author: Robert Johnson
Publisher: Macmillan Education UK
Log in
In 1876, Lord Salisbury remarked 'it is the nakedness of the sword on which we really rely'.1 One recurrent question about the British Empire is whether it was acquired or held by force, or whether it was built and sustained through the collaboration of indigenous peoples and by diplomatic accommodation with existing native elites. There can be little doubt that an important element of British imperialism, both in the expansion of the Empire and in its consolidation, was the part played by 'the sword'. The deployment of troops in 1854 indicates this: of the 40,043-strong British Army, there were 39,754 in the colonies and 29,208 in India. Nevertheless, the garrisons were relatively small. To cover the vast stretches of territory of the Empire, there was, in fact, only one regular soldier for every 53 square miles. There were several reasons for this spartan coverage. First, the cost of large garrisons would negate the value of the colony in question. Second, the British often possessed a marked advantage in weaponry, transport and medicine, which enabled them to make rapid and effective movements against native forces. A decisive engagement was the preferred policy, to leave a 'lasting impression' and to prevent desultory guerrilla resistance.