2012 | OriginalPaper | Chapter
1. Collecting Things Together: Sets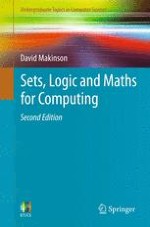 Author: David Makinson
Publisher: Springer London
Log in
Abstract
In this chapter, we introduce the student to the world of sets. Actually, only a little bit of it, the part that is needed to get going.
After giving a rough intuitive idea of what sets are, we present the basic relations between them:
inclusion
,
identity
,
proper inclusion
and
exclusion
. We describe two common ways of identifying sets and pause to look more closely at the
empty set
. We then define some basic operations for forming new sets out of old ones:
intersection
,
union
,
difference
and
complement
. These are often called Boolean operations, after George Boole, who first studied them systematically in the middle of the nineteenth century.
Up to this point, the material is all 'flat' set theory, in the sense that it does not look at what we can do when the elements of sets are themselves sets. However, we need to go a little beyond flatland. In particular, we need to generalize the notions of intersection and union to cover arbitrary
collections of sets
and introduce the very important concept of the
power set
of a set, that is, the set of all its subsets.