2003 | OriginalPaper | Chapter
Colonial discourse: was there an ideology of imperialism?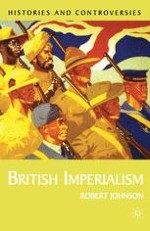 Author: Robert Johnson
Publisher: Macmillan Education UK
Log in
Dissatisfied with the standard approaches to the history of the British Empire, a number of academics have attempted to uncover the reality of imperialism through its texts or 'discourse'. The foundation of the new approach was an attack on the premise that, using the exercise of reason, one might discover universal truths about the human condition.1 Instead, it was proposed that all knowledge is relative, and that there is no objective truth.2 Indeed, there was a feeling that what was portrayed as 'truth' was often little more than a European interpretation of the world, which was made convincing by a series of 'constructions' (such as literary devices, language or vocabulary). Moreover, there was, it seemed, a hidden agenda: the inventions of these truths was motivated by a desire to construct power positions over other peoples.