2008 | OriginalPaper | Chapter
Community Care: Promoting an Empowering Service or Using the Market to Contain Costs?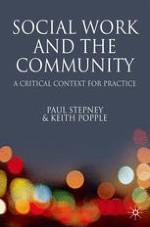 Authors: Paul Stepney, Keith Popple
Publisher: Macmillan Education UK
Log in
The term community care has become a highly contested and ambiguous concept. It tends to be interpreted in a variety of ways, as the above quote illustrates, leaving provider agencies with the dilemma of matching rhetoric with reality at a time of finite resources. Its use in policy debates can be traced back to the 1930s when it was used to refer to non-institutional provision (Denney, 1998). More recently community care has been defined as 'the various efforts to help ensure that people who are in need of care remain in the community' (Thompson and Thompson, 2005, p. 1). This is likely to consist of a package of care including practical, personal, social and emotional support to help maintain or restore people to a safe and satisfactory level of independence (Centre for Policy on Ageing, 1990).