2011 | OriginalPaper | Chapter
Community Empowerment: Myth or Reality?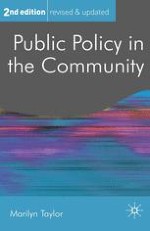 Author: Marilyn Taylor
Publisher: Macmillan Education UK
Log in
This book began with the many challenges that commentators across the globe have identified for the twenty-first century. The giant among these has been 'globalisation'. It is a phenomenon that brings many new opportunities, but the ideological dominance of market capitalism, with the convergence of global markets, has costs too. It has seen a widening chasm between the winners and the losers. The middle classes may have expanded, giving more of us access to the fruits of economic growth, but the gap between the rich and the poor has grown inexorably and social mobility is in decline (Judt 2010). The excessive earnings of the wealthy pull the threshold of inclusion up to ever higher levels. And while, at the one end of the scale we have global citizens, whose influence extends across continents; at the other, growing numbers of people are dispossessed by war, environmental catastrophe, and political and economic oppression.