2013 | Book
Comparative Public Policy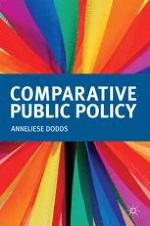 Publisher: Macmillan Education UK
Print ISBN: 978-0-230-31943-1
Electronic ISBN: 978-1-137-28489-1
About this book
The comparative approach to public policy illuminates the policy process in both foreign and domestic contexts and also provides valuable lessons on how governments and organizations can do things differently.

This new introductory text combines information about public policies in different countries with an explanation of the frameworks that have been used to analyze these policies. It compares public policies across a wide range of countries and across core policy areas, including welfare, education, healthcare and the environment. This comparison of different policy areas provides the foundation for a critical overview of the main theories and methodological issues in comparative public policy.

Informed by the latest research, the text examines the key variables that lead to different policies in different countries. It also assesses the challenges posed by attempts to transfer policies from one society to another and assesses the impact of globalization on public-policy making. Supported by a wealth of figures, charts and real-life international examples, this book provides a comprehensive and integrated introduction to comparative public policy in the twenty-first century.

Title

Comparative Public Policy

Publisher

Macmillan Education UK

Print ISBN

978-0-230-31943-1

Electronic ISBN

978-1-137-28489-1

Copyright Year

2013

DOI

https://doi.org/10.1007/978-1-137-28489-1

Author:

Anneliese Dodds