2012 | OriginalPaper | Chapter
2. Comparing Things: Relations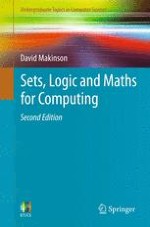 Author: David Makinson
Publisher: Springer London
Log in
Abstract
Relations play an important role in computer science, both as tools of analysis and for representing computational structures such as databases. In this chapter, we introduce the basic concepts you need to master in order to work with them.
We begin with the notions of an
ordered pair
(and more generally, ordered
n
-
tuple
) and the
Cartesian product
of two or more sets. We then consider operations on relations, notably those of forming the
converse
,
join
and
composition
of relations, as well as some other operations that make relations interact with sets, notably the
image
and the
closure
of a set under a relation.
We also explore two of the main jobs that relations are asked to carry out: to classify and to order. For the former, we explain the notion of an
equivalence relation
(reflexive, transitive, symmetric) over a set and how it corresponds to the notion of a
partition
of the set. For the latter, we look first of all at several kinds of
reflexive order
, and then at their
strict parts
.