2016 | OriginalPaper | Chapter
14. Computational Swarm Intelligence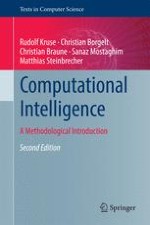 Authors: Rudolf Kruse, Christian Borgelt, Christian Braune, Sanaz Mostaghim, Matthias Steinbrecher
Publisher: Springer London
Log in
Abstract
Swarm Intelligence (SI) is about a collective behavior of a population of individuals. The main properties of such populations is that all of the individuals have the same simple rule from which the global collective behavior cannot be predicted. Moreover, the individuals can only communicate within their local neighborhoods. The outcome of this local interaction defines the collective behavior which is unknown to single individuals. The world of Computational Swarm Intelligence contains several approaches for dealing with optimization problems. Particle Swarm Optimization (PSO) (Kennedy and Eberhart, Particle swarm optimization,
1995
) and Ant Colony Optimization (ACO) (Dorigo and Stützle, Ant Colony Optimization
2004
) will be addressed in the chapter. After the introduction, we explain the basic principles of computational swarm intelligence for PSO in Sect.
14.2
upon which the following Sects.
14.3
to
14.5
are built. The second part of the chapter, Sect.
14.6
, is about the Ant Colony Optimization method.