2002 | OriginalPaper | Chapter
Concluding Discussion: Living with Ambivalence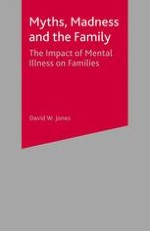 Authors: David W. Jones, Jo Campling
Publisher: Macmillan Education UK
Log in
This book began by referring, in the Introduction, to Carol Peters' questions, which she raised during an interview about how she feels about her brother's difficulties:
How can we deal with this? How are we meant to react? What do you want us to do? … [C]an you explain to us what is going on in his brain that he is suddenly screaming and shouting at us, and abusing us and everything else, do you know why?
Previous chapters have highlighted the importance of the active 'struggle' for meaning that is going on underneath that questioning and the importance of dialogue in reaching resolution. As Chapters 1 and 2 emphasized, professionals have often approached families with their own rather strong, ideologically informed views that have made dialogue unlikely. For example one reading, or one hearing, of Carol's questions could lead someone to provide answers in terms of practical action. The 'expressed emotion' specialist might suggest the families take a non-critical accepting stance. Leaflets and information might be provided by a psychoeducationalist, outlining the status of current knowledge of neurology, biochemistry or twin studies.