2015 | OriginalPaper | Chapter
Conclusion: What Future for the Public Sector?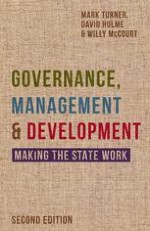 Authors: Mark Turner, David Hulme, Willy McCourt
Publisher: Macmillan Education UK
Log in
Dominant ideas about the role of public sector organizations have changed dramatically. In the early development decades, the 1950s and 1960s, the public sector was awarded undisputed primacy as the creator and implementer of strategies for development. Its technically skilled, and simultaneously altruistic, elites would guide economies and societies along the path to modernization. In the 1970s, critical self-reflection and assault from radical development theory saw the image of an efficacious public sector severely damaged. Could it generate and maintain the impetus for development? By the 1980s, the answer to this question was clearly and widely articulated. The public sector was a pariah that actually hindered economic and social development: it was not the solution, it was the problem. The time had come to roll back the state by privatizing the public enterprises so vigorously promoted in an earlier era and downsizing the ministries which had been encouraged to expand into ever more areas of social and economic life. The invisible hand of the market would unleash the mechanisms to realize the developmental aspirations of the Third World.