2011 | OriginalPaper | Chapter
Conclusion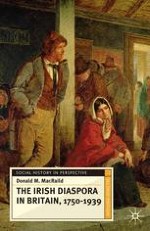 Author: Donald M. MacRaild
Publisher: Macmillan Education UK
Log in
During the mid-1930s, as Britain began slowly to emerge from the Depression,
The Times
commented unfavourably on the continued influx of Irish immigrants. Although such immigrants would again be in demand during the Second World War, for now they met the sort of opposition which had habitually accompanied them when the merest suggest of wage competition emerged.
The Times
reckoned that the migrations which had occurred since the Great Famine of the 1840s, which had flowed so strongly into the north-west of England, had been manageable because these Irish had choices. 'The more adventurous' headed for the United States of the Dominions, but even those (by implication supposedly the less adventurous) who headed for Liverpool or Glasgow were accepted because there was labouring work for them.
The Times
contrasted this happy situation with the Depression years:
But now there are practically no alternatives before then, for since the War America and the Dominions have been almost closed to immigrants of the lower grade. So they flow into this country with undiminished hope of employment, though casual and unskilled labour is no longer in demand. In Liverpool and Bootle area are still 91,000 unemployed.

1