2019 | OriginalPaper | Chapter
7. Conclusion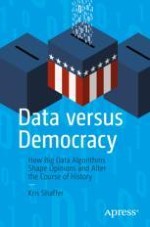 Where Do We Go from Here?
Author: Kris Shaffer
Publisher: Apress
Log in
Abstract
Information abundance, the limits of human cognition, excessive data mining, and algorithmic content delivery combine to make us incredibly vulnerable to propaganda and disinformation. The problem is massive, cross-platform, and cross-community, and so is the solution. But there are things we can do—as individuals and as societies—to curb the problem of disinformation and secure our minds and communities from cognitive hackers.