2017 | OriginalPaper | Chapter
Conclusions: Crisis Without End?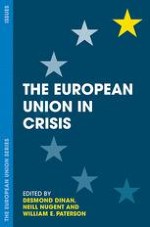 Authors: Desmond Dinan, Neill Nugent, WilliamE. Paterson
Publisher: Macmillan Education UK
Log in
At the beginning of this book – in the Introduction and in the editors' opening chapter – much was made of the large number of specific crises that have simultaneously existed within the general crisis that has affected the EU in recent years. The headline crises revolving around the eurozone, migration, and Brexit have been accompanied by deep concerns about a number of related issues, including the diminution of popular support for the EU, legitimacy and identity issues, strains in the EU's system of governance, divisions between North and South and East and West, and the role of Germany – the last of which has been a common factor to most of the crises. As was shown by Desmond Dinan in Chapter 2, the EU has faced crises before, but not on such a scale. Past crises in the EU's history have typically been about one set of issues, such as the disputes over the size and distribution of the budget in the 1980s and the problems with treaty ratifications in the 1990s and 2000s. But the crisis of recent years has been multi-dimensional and, consequently, quite unprecedented. The crisis has been unprecedented not only in the large number of specific crises it has contained but also in the severities of these crises.