2016 | OriginalPaper | Chapter
Conclusions: What is the Point of Property?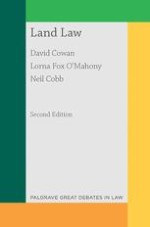 Authors: David Cowan, Lorna Fox O'Mahony, Neil Cobb
Publisher: Macmillan Education UK
Log in
We have spent some time in this book identifying some of the flaws in the conventional law of property, in particular through the lens of the six themes of property identified in Chapter 1: alienation, citizenship, exclusion, rationality, responsibility and space. In this conclusion, we reflect on our journey by way of extended observations on the limits of property in law. We do not seek to repeat our call to arms in the introduction here, and nor is what follows a manifesto or suchlike; what we offer here are merely some personal observations to which we collectively mostly sign up.