2015 | OriginalPaper | Chapter
Conclusions: Where now for the EU?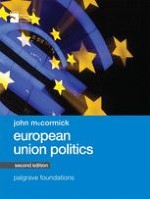 Author: John McCormick
Publisher: Macmillan Education UK
Log in
This has been a book about the politics and policies of the European Union. Its purpose has been to explain how the EU works, where it came from, how it evolved, the context within which it has functioned, how it makes decisions, and its impact on Europe and Europeans. In this book, we have: Looked at the underlying theoretical explanations of European integration, and have seen how the EU has evolved from being primarily an international organization to becoming a political system in its own right, with qualities that sit somewhere on a spectrum between intergovernmental and supranational, and between federal and confederal.Reviewed the personality and character of Europe and its inhabitants, attempting to pin down the region's geographical and cultural limits, understand what the terms Europe and European mean, and identify the norms and values that make the EU and its inhabitants distinctive.Surveyed the colourful and controversial history of the EU, tracing events from the signature of the Treaty of Paris in April 1951 through to today's EU, containing 28 member states and more than 500 million people, with other European states considering the prospects of membership.Examined the structure and work of the major European institutions, seeking to understand how they function relative to each other and the member states, and reviewing what their work has meant for the decisions taken by Europe's national leaders and the lives of ordinary Europeans.Assessed the impact of integration on policies in fields as diverse as agriculture, asylum, commerce, competition, corporate mergers and acquisitions, defence, economic development, education, employment, the environment, fisheries, foreign affairs, immigration, monetary affairs, police and judicial cooperation, security, the single market, trade, and workers' rights.