2003 | OriginalPaper | Chapter
Consideration of Specific 'Presenting Problems' — How Can a Counselling Approach be of Use?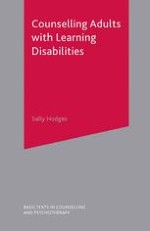 Authors: Sally Hodges, Nancy Sheppard
Publisher: Macmillan Education UK
Log in
A range of identified or 'presenting problems' that are most frequently cited as 'reasons for referral' to learning disability mental health services are now considered. This will include a discussion about abuse, particularly the consequences of abuse experienced as a child, loss, bereavement, challenging behaviour, psychiatric diagnosis, and sensory impairments. Talking treatments for challenging behaviours tend to be neglected in favour of medical or behavioural approaches, because they are seen as conditions that have biological aspects. There is, however, a growing body of evidence that counselling can be of use for a wide range of presenting problems. We will start by looking at one of the most common referral reasons, that of abuse.