2015 | OriginalPaper | Chapter
Constructivism and interpretive approaches: especially relevant or especially not?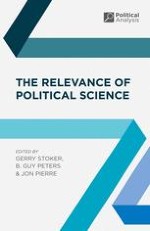 Author: Craig Parsons
Publisher: Macmillan Education UK
Log in
The fall of the Soviet Union and the end of the Cold War, the global financial crisis after 2008, the sudden fall of authoritarian governments in the Arab Spring: these may be the biggest political developments of the past few decades. Each also constitutes a significant failure for the long-dominant approaches in political science and international relations (IR) that analyse politics in terms of rational individuals pursuing known interests. Of course we might not begrudge rationalist approaches for failing to predict these events, even if they typically endorse a philosophy of science in which their research should generate useful predictions. No social science approach has ever been very good at forecasting, and we might class major political events in a category with complex phenomena like the weather that we can understand fairly well but not predict very far out. Their failure is clearer, though, in the difficulty that such approaches meet with in accounting for these developments with hindsight. Without claiming that rationalists have nothing at all to say about the evolving material or organizational constraints to which individuals responded in these contexts, it seems fair to say that models of people rationally pursuing clear interests in well-structured interaction look only marginally relevant in these stories. All seem to involve massive uncertainty, considerable contingency and what looks like rather rapid change in how many people understood their interests.